Now Bhagvad Gita translated in Polish languages
warsaw, Sun, 25 Mar 2012
NI Wire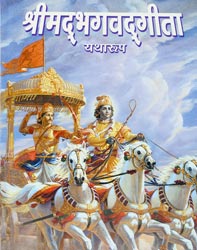 Famous holy book Bhadvad Gita has notices another mark when in Catholic dominated Poland it has been translated in police for the first time. Once when it is facing a proposed ban in Russian state, certainly the piece of news is satisfactory for many.
A polish lady Anna Racinska who has done her Phd in Sanskrit has done the above translation. It is amazing that Racinska has spent almost a decade in Varanasi to master the nuances of Sanskrit. A late bloomer, Racinska is in her 60s and completed her doctorate from the Oriental Institute of Warsaw University two years ago.
Today in their home, all the children and parents speak Sanskrit fluently, and they converse normally in Sanskrit. It may seem odd to outsiders, but it is normal routine in their home.
These days the youngest sibling has adopted an Indian name, Yoganand, and he lives in Varanasi. He and his mother were learning Sanskrit together for many years. Another son, Phillip, is doing his doctorate in Sanskrit and has visited India more than 12 times. These children collect their own money to go to India and they give private lessons in Hindi and Sanskrit in Warsaw. Such is their commitment and passion for Sanskrit.
Janusz Krzyzowski, a leading Indologist and president of the Indo-Polish Cultural Committee said that her dedication and her labour of love have done wonders. It is a great achievement for Anna Racinska that she remained unknown for many years, and then all of a sudden she has obliged us in Poland with a great translation of a great book.
(With inputs from IANS)