Anna reaches Jantar Mantar, massive crowd present
New Delhi, Sun, 25 Mar 2012
NI Wire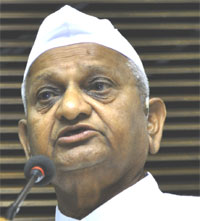 Social activists Anna Hazare has said that govt. is not sensitive towards the voice of people of India and it has not been trying any support to whistleblower who have been raising the corruption issued. Anna is now all set to start his one-day fast at Jantar Mantar.It will be the first time that he has raised his voice for the protection of the whistleblowers.
Anna Hazare has held the one-day fast demanding that the govt. should pass the strong Lokpal bill in parliament. Apart from this he has said that govt. should pass the bill with a strong whistleblower protection programme. It has been said that family of killed whistleblower are likely to take part in the fast.
Meanwhile Delhi Police has arranged proper security arrangement for the ongoing fast. Around 1000 Police constables will be present on the spot.
This is the third occasion that Jantar Mantar has been chosen by Team Anna for his fast. The entire fast organised at here by Anna in past have been succeeded and garnered massive people.