Time to take urgent measures to control drug resistant TB
New Delhi, Sat, 24 Mar 2012
NI Wire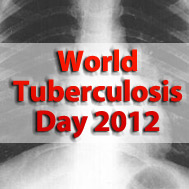 One day before the World Tuberculosis Day on Friday, the members of civil society called for urgent measures to act on regulation of tuberculosis (TB) drugs in the private market and growing number of drug-resistant TB. World TB day is observed on 24th March of every year.
"It's painfully clear that DR-TB infections are on the rise in India. The conditions for emergence of drug resistance are undeniably prevalent, in both the public programme and the private health sector," said Amit Sengupta from Peoples' Health Movement.
Deligates from Medecins Sans Frontieres (MSF), Peoples' Health Movement, Stop TB Partnership and Delhi Network of Positive People (DNP+) said on Friday that that the Revised National TB Control Program (RNTCP) pretends a higher risk of miss doses to the patients that is a major concern that induces the need to create drug-resistant strains of TB.
It is to be noted that through The Revised National TB Control Program (RNTCP), the patients of Tb are provided alternate day treatment which does not includes any investment in the treatment counseling that can enhance the fidelity of treatment.
"The Direct Observed Treatment (DOT) model implemented by RNTCP is paternalistic, and fails to empower and support patients through TB treatment serving up a perfect recipe for treatment interruptions. This has implications not only for the patients treated but also on the development of drug resistance," said Hari Shankar, of the DNP+.
Tuberculosis in India results in the death over 3 million people every year with two deaths every three minutes, According to the health ministry's TB Control India statistics.
Tb is an airborne bacterial disease caused by the bacteria Mycobacterium tuberculosis, which affects the lungs severely. The symptoms of the disease includes producing bloody or discoloured sputum, night sweats, fever, fatigue and weakness, pain in the chest, loss of appetite, and pain in breathing or coughing that can last for a period of three weeks or longer.
"The proliferation of TB formulations in the private market coupled with the casual over-the-counter sale of antibiotics, of which some are used for DR TB treatment, is fuelling the development of drug resistance," said Piero Gandini, MSF's Head of Mission in India.
"There is an urgent need for regulatory control of sale and administration of TB drugs in the private sector in order to address the growing incidence of severe forms of DR-TB in India," Gandini added.