Odisha Kidnapping Crisis: Negotiators denied to make further talks with negotiators
Bhubaneshwar, Sat, 24 Mar 2012
NI Wire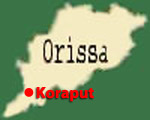 Amid worsening crisis in odisha over the issue of two separate cases of abduction, the promoted negotiators on Saturday denied to make further conversations with Maoists, who allegedly have Friday night kidnapped Biju Janta Dal (BJD) legislator jhina Hikaka from Koraput district, sources said.
The government that has persuaded to mediate two persons - B D Sharma and Dandapani Mohanty to negotiate with Maoist for the third round of meeting to be scheduled to be held on Saturday afternoon, have denied to do so as both the parties were rigid on their stands.
After the refusal of interlocutors, the situation has reached to a deadlock situation.
The government is demanding to make free all the three hostage including two Italians who were kidnapped ten days ago while Maoists are demanding to end 'operation green hunt' from the state and to release its three leaders - Gananath Patra, Subhashree Panda and Ashutosh Soren from the government.
However, a senior official of Koraput police has informed that on Friday night, as much as 50 gun men abducted a BJD legislator from the midway between Laxmipur and Koraput when he was returning to his home.
However, the official has not confirmed that the kidnappers were either Maoist.
Meanwhile, the negotiators have appealed to the Maoists to set free all the three kidnapped hostage on the basis of humanity.
The Chief Minister Naveen Patnaik, who is reportedly keen to make set free the abducted hostage today make a call to Union Home Minister P Chidambaram. He also convened a high level meeting with senior police officials and ministers in the move to get any solution, but a concrete solution is yet to be come out.