World Tuberculosis Day 2012
New Delhi, Sat, 24 Mar 2012
NI Wire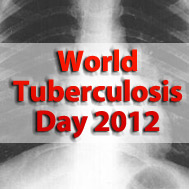 World Tuberculosis Day, observed on March 24 each year, which marks the day in 1882 when Robert Koch discovered the bacteria that causes tuberculosis. The day is observed across the world in order to spread the awareness about the global effects of tuberculosis and efforts to eliminate the disease. Today almost 2 million people across the world die from the epidemic of tuberculosis (TB) every year. The disease accounts for half a million deaths in South East Asia only every year.
In 1982, on the occasion of one-hundredth anniversary of Robert Koch who discovered the bacteria causing TB for the first time, the International Union Against Tuberculosis and Lung Disease (IUATLD) proposed March 24 to be observed as World TB Day officially. Later, 1996, the World Health Organization (WHO) joined hands with the IUATLD to raise the impact of World TB day which was further joined by many other organization. Today the "Stop TB Partnership", a network of organizations and countries fighting TB organizes the Day to increase the awareness about the causes, prevention and treatment of the disease to the common people across the world.
Like every year a theme has been decided for this year's World Tuberculosis Day too. The theme for World Tuberculosis Day 2012 is "Stop TB in my lifetime Call for a world free of TB".