Cuba develops mathematical models to combat dengue
New Delhi, Sat, 24 Mar 2012
NI Wire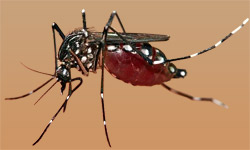 In a bid to control the epidemic of dengue, Cuba has developed mathematical models to combat dengue, a media report said on Friday.
This mathematical model has been developed by experts of Havana's Pedro Kouri Tropical Medicine Institute.
This model was developed in the leadership of young scientist Lizet Sanchez for Cuba's national health system. These mathematical models enable health officials to analyze outbreaks in real time so they can make best strategy to fight the disease, says official daily Juventud Rebelde.
The lead scientist of the study Sanchez has also developed a mathematical model to study the distribution of the dengue-carrying mosquito, Aedes Aegypti, and calculate the risk factors and analyze the control mechanisms needed in different regions and sectors of the population, says a report of Xinhua.
While Cuba is a pioneer in controlling the spread of dengue, its epidemiological studies have till now been based only on descriptive statistics that could not be put to practice to immediately make combat plans.
Dengue is not endemic to Cuba, but it is considered a serious health threat in Latin America, where it affected more than one million people in the year 2010 alone.
--with inputs from IANS