Lokpal Bill: Will Jantar Mantar create history once again for Team Anna?
New Delhi, Sat, 24 Mar 2012
NI Wire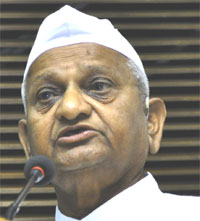 Although Social activists Anna Hazare and his team has been leaving no stone unturned in making his one day protest successful at Jantar Mantar in the Capital set to be held on Sunday, now it will the time that declares the truth about the success of Anna and his team. Whether will it repeat its Delhi's success or will it put Team Anna on the back foot, as it happened with the social crusader and his team in Mumbai's MMRDA protest campaign.
It is noted that team Anna has organised his previous protests in capital and garnered massive support from all kind of people.
Especially the movement organised in April last year against the Lokpal bill was more successful and garnered massive people. Once again in August when Anna organised his protest and it was very much successful which was fully supported by media. During this protests Anna was arrested and people when come from their home in support for Anna was a miraculous. Certainly it was an achievement for which team Anna will never envisaged. The 'jail bharo andolan' appeal got noticed and thousands of people from all walks of life willingly went to police to be sent to jail, which was surprising for team Anna. At last govt. released Anna from jail and when he started his fast in Ramlila Ground, it become a historic movement when people from rest part of the country come forward for his support. In fact it was such a triumph and achievement for which team Anna has never envisaged.
That was the time when govt. was forced to announce a strong Lokpal bill in Parliament and then there was a halt for the protest.
However after a lot of things happened which was avoidable and experts' say that it must be avoided. Hissar by elections and team Anna's camping to defeat Congress and then started blame game from both the side, which deviate the main issues. Even core members of team Anna was not in favour of opposing Congress and on the spot team Anna lost its movement and reached themselves on a directionless way. Then it came December and in winter session of Parliament Lokpal bill got discussed. Once again annoyed with govt. attitude Anna Hazare started his protest but this time venue was changed. He started his fast in Mumbai's MMRDA ground, which was not left a greater impact. Due to lacklusture responses from the public, Anna had to stop the fast in mid way and it was a setback for his movement.