Obesity can enhance the risk of recurrence of breast cancer
New Delhi, Sat, 24 Mar 2012
NI Wire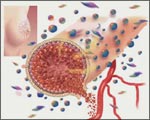 In a recent research, it has been found that obese women are diagnosed with breast cancer have more chances of the reoccurrence of the cancer or cancer related death than a lean women.
According to the researchers, the finding were true even though the chemotherapy doses were adjusted for the weight of the body which provided one more evidence that various factors of lifestyle influences cancer prognosis.
A total number of 1909 patients were studied for the research that were enrolled into a study called CALGB 9741 between 1997 and 1999 by Dr. Jennifer Ligibel, a medical oncologist at the Dana-Farber Cancer Institute, Boston, USA, and an Associate Professor at Harvard Medical School, and colleagues.
The study was made to know about the different dosing schedules for adjuvant chemotherapy on those patients where cancer cells were found in the lymph nodes (node-positive cancer). The presence of such cells in the lymph nodes indicates that there is an increased chance of recurrence of cancer after surgery.
After taking out the height and weight data from the available data of patient, the researchers evaluated the relationship between body mass index (BMI) with relapse-free survival (RFS) and overall survival (OS).
Upon evaluation it was found that, 1.2 percent of the total patients were underweight, 32.6 percent were normal weight, and 32.9 percent overweight, and 33.3 percent obese. 49 percent of patients were menopausal, 65 percent had oestrogen-receptor positive cancers, where the presence of oestrogen favors the tumor to grow, and 70 percent received the oestrogen-receptor blocking treatment, tamoxifen.
"Several other studies have shown that being overweight or obese at the time that a woman is diagnosed with breast cancer is linked to a higher risk of recurrence. However, questions have been raised in the past whether obese women were receiving relatively lower doses of chemotherapy due to their weight. Our study mandated that each patient received a chemotherapy dose adjusted to her weight, so these results suggest that treatment factors are not responsible for the differences in recurrence rates seen in heavier women," Dr. Ligibel said.
"We found that BMI was related to both RFS and OS; for example, the ten-year RFS of a patient who was overweight was 70 percent; compared with 65 percent for one who was obese," she stated.
Now, the researchers aim to continue their study in order to know more about how weight-related factors could influence breast cancer outcomes.
Moreover, a number of studies are on its way that are been done to know about how the changing lifestyle behaviours, such as losing weight, exercising more, and eating a better diet can affect the hormones in women's bodies that are linked to breast cancer. At last they said that, they are interested in studying the impact of weight loss on the risk of recurrence in women with early breast cancer.
"Obesity is a modifiable factor, and although there is not yet enough evidence to say with certainty that losing weight or exercising more regularly will decrease the risk of breast cancer recurrence, there are consistent links between lifestyle factors such as diet, weight and physical activity patterns and breast cancer prognosis," Dr. Ligibel noted.
"If future studies show that making changes in lifestyle behaviours for women with early breast cancer will improve survival rates, then lifestyle interventions may one day become a standard part of breast cancer care," she concluded.
The details of the study were presented to the 8th European Breast Cancer Conference (EBCC-8) (Friday).
-With inputs from ANI.