Possible target for diabetes treatment recognized
New Delhi, Sat, 24 Mar 2012
NI Wire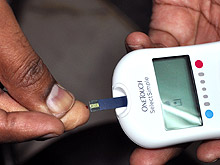 In a major development in the field of treatment of type 2 diabetes, a team of researchers has established the potential of a protein for the treatment of this disease.
Researchers at the Institute for Research in Biomedicine (IRB Barcelona) have identified that lack of a single protein, Mitofusin 2, in muscle and hepatic cells of mice is enough to make tissues insensitive to insulin that results in an increase in blood glucose concentrations.
These are the two most common conditions before the development of diabetes type 2.
The study confirms Mitofusin 2 as a probable target for the treatment of diabetes type 2.
"Resistance to insulin plays a key role in the development of diabetes mellitus, dyslipidemia (alteration of lipid concentrations) and obesity. Mitofusin 2 may provide a specific target for the development of drugs that could hold back a disease that affects millions of people worldwide", head of the study, Antonio Zorzano, full professor of the University of Barcelona, coordinator of the Molecular Medicine Programme at IRB Barcelona, and head of the Heterogenic and Polygenic Diseases lab at the same centre has been quoted as saying.
Former studies done at IRB Barcelona shows that both obese and diabetes type 2 patients have low levels of muscle Mitofusin 2.
Mitofusin 2 regulates the insulin signaling pathway in the liver and muscles.
Researchers at the Institute for Research in Biomedicine (IRB Barcelona) have found that deficiency of this protein causes changes in mitochondria and the endoplasmic reticulum two important cell organelles that regulates cell functioning.
"We have shown that the accumulation of dysfunctions in these two structures alters cell behavior and favors the appearance of pre-diabetes symptoms", main authors of the article, David Sebastian and Maria Isabel Hernandez-Alvarez, post-doctoral fellows in Zorzano's team have been quoted as saying.
Proceedings of the National Academy of Sciences (PNAS) has published this study
--with inputs from ANI<