Big Ben tower to be renamed after Queen Elizabeth to pay tribute in Diamond Jubilee
New Delhi, Fri, 23 Mar 2012
NI Wire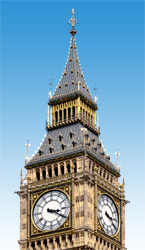 The Senior MPs of Britain has demanded to rename the tower containing the Big Ben as Elizabeth Tower. They want this to be done in the honor of the Queen.
They are calling on Parliament's authorities of Britain to recognize the monarch's 60 years on the throne by paying a tribute to Queen Victoria by keeping the name of the tower in her name.
Earlier in 1860, the tower was renamed as Victoria Tower to commemorate her long reign which was originally called The King's Tower before that.
Big Ben is the nickname for the great bell of the clock at the north end of the Palace of Westminster in London and its actual name is St Stephen's Tower and commonly refereed as The Clock Tower.
Now a cross-party group of MPs headed by Foreign Office aide Tobias Ellwood are demanding the rename of the tower as Elizabeth Tower in June as a tribute to the Queen's Diamond Jubilee.
The campaign for this demand is being supported by the Cabinet ministers that include Commons Leader Sir George Young and some senior leaders of the two other main parties. They have demanded the House of Commons
Commission, the august body which runs the Commons to approve their demand of name change.
"I can't think of a greater tribute for Parliament to bestow on Her Majesty than the naming of such a landmark as the Clock Tower. If we get the support I hope we will, I would like to see a formal announcement or a ceremony taking place on June 2," the Daily Mail quoted Ellwood as saying.
Moreover, Former Labour foreign secretary and Lord Chancellor Jack Straw has also supported to Ellwood's suggestion.
"I think it is a very fitting tribute to a monarch who has served the country so well," he added.
-With inputs from ANI.