President Pratibha Patil presents Padma awards to 53 eminent personalities
New Delhi, Fri, 23 Mar 2012
NI Wire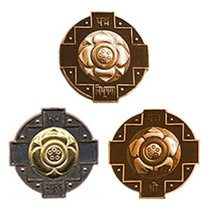 The President of India Pratibha Patil facilitated 53 persons with the Padma awards, at the Rashtrapati Bhavan in New Delhi on Thursday, 22 March 2012.
The list of awardees included famous people from various fields including public affairs, social work, science and engineering, trade and industry, medicine, education, sports and civil service, who had made remarkable contributions in their respective fields.
The country's second highest recognition after Bharat Ratna, Padma Vibhushan was given to three people. Famous Assamese singer-composer late Dr Bhupendra Kumar Hazarika was entitled with the award posthumously. The other two are: former Uttar Pradesh governor and Intelligence Bureau chief T V Rajeswar and internationally renowned orthopedic surgeon Dr K H Sancheti.
Taz Hazarika, son of late Dr Bhupendra Kumar Hazarika, received the Padma Vibhushan award for his father from the President.
In addition to that, a number of people got recognition of Padam Bhushan and Padam shri awards. The list of the other awardees includes:
Padam Bhushan
Shri Jatin Das - Art - Painting – Delhi
Pandit Buddhadev Das Gupta - Art - Instrumental Music - Sarod - West Bengal
Dr. Trippunithwra Viswanathan Gopalkrishnan - Art - Classical vocal and instrumental music - Tamil Nadu
Ms. Mira Nair - Art - Cinema - Delhi
Prof. Shashikumar Chitre - Science and Engineering - Maharashtra
Dr. Suresh H. Advani - Medicine - Oncology - Maharashtra
Dr. Devi Prasad Shetty - Medicine-Cardiology - Karnataka
Prof. (Dr.) Shantaram Balwant Mujumdar - Literature and Education – Maharashtra
Shri Ronen Sen - Civil Service - West Bengal
Prof. Arvind Panagariya - Literature and Education - USA
Prof. Vidya Dehejia - Literature and Education - USA
Shri Subbiah Murugappa Vellayan - Trade and Industry - Tamil Nadu
Shri Khaled Choudhury - Art - Theatre - West Bengal
Shri Sunil Janah - Art-Photography - Assam
Padam Shri
Shri Vanraj Bhatia - Art - Music - Maharashtra
Smt. Nameirakpam Ibemni Devi - Art - Music- Khongjom Parba - Manipur
Shri Moti Lal Kemmu - Art - Playwright - Jammu and Kashmir
Shri Satish Alekar - Art - Playwright - Maharashtra
Smt. Joy Michael - Art - Theatre - Delhi
Shri Natesan Muthuswamy - Art - Theatre. - Tamil Nadu
Shri Kalamandalm Sivan Nambootiri - Art - Indian Classical Dance- Kutiyattam - Kerala
Shri Ramakant Gundecha and Shri Umakant Gundecha - Art - Indian Classical Music- Vocal - Madhya Pradesh
Shri Anup Jalota - Art-Indian Classical Music- Vocal - Maharashtra
Shri Soman Nair Priyadarsan - Art - Cinema- Direction - Kerala
Shri Pravin H. Parekh - Public Affairs - Delhi
Dr. Krishna Lal Chadha - Science and Engineering - Agriculture - Delhi
Prof. Rameshwar Nath Koul Bamezai - Science and Engineering - Jammu and Kashmir
Smt. Shamshad Begum - Social Work - Chattisgarh
Dr. P.K. Gopal - Social Work - Tamil Nadu
Dr. G. Muniratnam - Social Work - Andhra Pradesh
Dr. Uma Tuli - Social Work - Delhi
Smt.Binny Yanga - Social Work - Arunachal Pradesh
Dr. Lokesh Kumar Singhal - Science and Engineering - Punjab
Ms. Priya Paul - Trade and Industry - Delhi
Shri Arun Hastimal Firodia - Trade and Industry - Maharashtra
Shri Shoji Shiba - Trade and Industry - Japan
Dr. J. Hareendran Nair - Medicine - Ayurveda - Kerala
Dr. Jitendra Kumar Singh - Medicine - Oncology - Bihar
Dr. Nitya Anand - Medicine - Drugs Research - Uttar Pradesh
Dr. Mukesh Batra - Medicine-Homeopathy - Maharashtra
Shri Kedar Gurung - Literature and Education - Sikkim
Shri Vijay Dutt Shridhar - Literature and Education - Journalism - Madhya Pradesh
Ms. Geeta Dharmarajan - Literature and Education - Delhi
Smt. Pepita Seth - Literature and Education - Kerala
Smt. Jhulan Goswami - Sports - Women's Cricket - West Bengal
Shri Ajeet Bajaj - Sports - Skiing - Delhi
Shri Devendra Jhajrija - Sports - Athletics- Paralympics - Rajasthan
Shri Syed Mohammed Arif - Sports - Badminton - Andhra Pradesh
Dr. K. (Kota) Ullas Karanth - Others-Wildlife Conservation and Environment Protection - Karnataka
Shri Swapan Guha - Others-Ceramics - Rajasthan