Lokpal bill: Anna threatens for bigger movement
New Delhi, Fri, 23 Mar 2012
NI Wire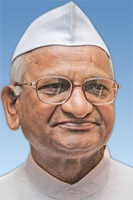 After the failure of all-party meet on the issue of Lokpal bill, social activists Anna Hazare has once again said that sarkari bill is useless and it can't curb corruption. Hazare has threatened that he will tour the country to awake the people regarding the issues.
Anna Hazare has said that after the failure of all party meets on the lokpal bill it is now clear that all are not serious regarding the responsible lokpal bill. As all the parties have not reach at any consensus so now whether govt. brings Lolpal or not, he will go the people parliament to awake them regarding the issues. He added that if the govt. does not bring a Jan Lolpal bill before 2014, we will have to organise a big movement for the bill. Hazare said that he is not against the govt. but he is fighting for citizen of the country. He said that if Congress does not pass the bill, it will have to face poor results in next parliament elections.
It is noted that Prime Minister's all party meet on Lolpal bill remained fruitless and opposition parties blamed govt. that it is not serious regarding a responsible Lokpall bill.