All party meeting fails, no consensus on Lokpal bill
New Delhi, Fri, 23 Mar 2012
NI Wire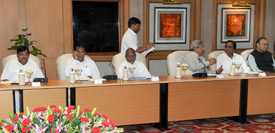 Prime Minister's move to make a consensus on the Lokpal bill remained fruitless and failed to reach any final decision. Leader of Opposition in Rajya Sabha Arun Jaitley and other opposition party leaders meets Prime Minister's house to discuss on the controversial Lolpal bill.
Leader of opposition in Rajya Sabha Arun Jaitley, BSP's S C Mishra, RJD's Ram Kripal Yadav, SP' Ram Gopal Yadav, NCP's Tariq Anwar and CPI's A B Vardhan were meet Prime Minister's residence to discuss on the controversial Lokpal Bill. Union Minister Pranab Mukherjee, P Chidambaram, A K Antony and Salman Khurshid were also present in the meeting to discuss on the issues.
It is noted that the opposition parties during the bill was presented in the Rajya Sabha has produced 97 amendments. BJP has slammed the govt. for not sincere on the bill. It has blamed the govt that it wants just a sarkari Lokpal bill. On the other hand Trinamool Congress wants deletion of Lokayukta provisions in state. JD (U) wants that CBI should be made autonomous body.