Tilting occurred in Minarets of famous Taj Mahal
New Delhi, Thu, 22 Mar 2012
NI Wire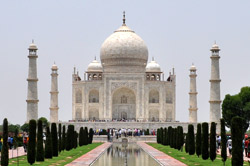 A minor tilting of Minarets of famous Taj Mahal has been occurred now a day. Archaeological Survey of India has found the minor changes during its observation in the session 2011-12. Although it is not a major cause of concern as the changes are within the permissible limit of geodetic accuracy.
It is noted that Archaeological Survey of India is monitoring the verticality of minarets of Taj Mahal regularly. During the observations in the season 2011-2012, minor changes in the tilt values of minarets have been noticed, which are within the permissible limit of geodetic accuracy.
Minister for Culture and Housing & Urban Poverty Alleviation Kumari Selja stated this in a written reply in the Rajya Sabha.
It has been stated that ASI has observed that due to some unknown disturbance caused by wind etc. these changes have been occurred.
However it has been said that the minarets of Taj Mahal have remained stable and the changes found are insignificant and well in agreement within the permissible limits of geodetic observations for stability of Taj Mahal.
It is noted that the Taj Mahal became a UNESCO world heritage site in 1983. The famous site was constructed finally in 1653 and it was started in 1632. The Taj Mahal incorporates and expands on design traditions of Persian architecture and earlier Mughal architecture.
According to sources the Taj Mahal attracts between 2 million and 4 million visitors annually, including more than 200,000 from overseas.