Kim Kardashian still believes in love
New Delhi, Thu, 22 Mar 2012
NI Wire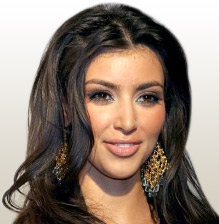 Kim Kardashian has said that she still believes that she will find love someday, but asserted that she has had a very tough time coping with the end of her brief marriage to Kris Humphries.
The socialite and television personality has had a hard time since the end of her marriage to the basketball star last October that lasted for just 72 days. She said that she has learned from her experiences and still believes she could fall in love again.
She talked about her broken marriage on 'Tonight Show with Jay Leno'.
"I learned so much, and the things I care about in my life have completely changed," she said on the show as per Contactmusic reports.
"I still believe in love. I'm in love with love. I thought this was it for me," she has been quoted as saying.
The 31-year-old socialiate and actress moved in with her mother, Kris Jenner after her split and said that she gave up wearing high heels and make-up, and managed with only one bag of clothes.
"It was a touchy period, really hard to go through, probably the toughest thing," she added
Before marrying Humphries Kardashian was previously married to Damon Thomas between 2000 and 2004. She said that her family had reservations about tying knots with Humphries, but she refused to listen to them.
"I'm a person, when I'm in love, you can't tell me anything. And you gotta go through it yourself. So, I did what I believed in doing, and sometimes you don't want to hear what your family has to say.
"You look back and you're like, 'Maybe I should have listened to them.' But, I wouldn't have been who I am today had I not gone through that," Kardashian said.
--With inputs from ANI