Mukul Roy withdraws passenger fare hike partially
New Delhi, Thu, 22 Mar 2012
NI Wire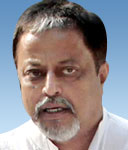 Finally New Railway Minister Mukul Roy did for which he was expected to do so. Roy announced that the hike fares in Railway budget of 2012-13 would be withdrawn.
Roy said that the proposal to increase fare by 2 paise per km, 3 paise per km and 5 paise per km in second class suburban and non-suburban and Sleeper class is a huge drain on the pocket of the masses. Mr. Roy said that he is intended to give relief to the already over burdened common man by not effecting any increase in these classes.
Roy, who replaced former railway minister Dinesh Trivedi, said the hike in general, passenger and AC 3 tier travel fares have been annulled.
He however left the AC 2 and 1 class AC hike as it is.
The passenger fare hike announced in Trivedi's 2012-13 railway budget had created a huge uproar within the UPA alliance last week, with the Trinamool Congress (TMC) demanding an immediate rollback.
The decision cost Dinesh Trivedi his cabinet portfolio.
(With input from ANI)