Opposition accuses Planning Commission for fudging poverty data
New Delhi, Wed, 21 Mar 2012
NI Wire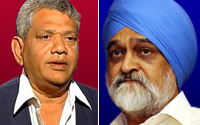 A day after releasing a fresh poverty figure, Planning Commission has come under severe criticism as the opposition is targeting the commission and the government for fudging the data.
The Communist Party of India-Marxist (CPI-M) has raised question over Planning Commission present methodologies to calculate poverty line in India.
CPI (M) leader Sitaram Yechuri has said, 'According to World Bank's calculation, India's 80% population lives below the poverty line which uses Human Development Index for calculating the growth of human being while planning commission of India has stated that poverty line has dipped to 7.4% to 29.8%.'
'Which type of measurement, Planning Commission uses?' asked Yechuri.
Targeting to commission and government, a BJP leader in Lok Sabha said, 'According to planning commission data, the daily per capita consumption in urban areas is Rs.28 while in rural area it is Rs.22. Now, I would like to ask the commission that can Indian Prime Minister or Finance Minister survive on Rs.28 per day expenses?'
The Planning Commission on Monday has released its fresh data on poverty line calculation based on the 66th round of the National Sample Survey (2009-10) data on household consumer expenditure survey.
According to new estimate, numbers of poor in India were 29.8% in 2009-10, down from 37.2% in 2004-05.
Earlier, Planning Commission had faced severe criticism when it stated in its released statement in last July that daily per capita consumption was Rs.32.2 in urban areas and Rs. 25.3 in rural areas.
Today, the Lok Sabha has been adjourned today due to uproar in the house over this issue.
On the contrary, Planning Commission has tried to defend its commission by putting the blame on the collected data and said that there was a serious flaw in the National Sample Survey data and national accounts on whose basis the poverty number were derived.
'There is a serious statistical problem,' said Montek Singh Ahluwalia, Deputy Chairman, Planning Commission. However, he denied the allegation of fudging the data in the pressure of government.
But, he accepted this fact that the poverty line estimates should be based on the experts' opinion and he is willing to do so.
"The Tendulkar poverty line has been criticised on the grounds that it is too low, and therefore under estimates the scale of the population that needs special assistance. Any poverty line is essentially arbitrary and the planning commission has only accepted the line recommended by the Tendulkar Committee. We have also indicated that the line will be revised from time-to-time based on the recommendations of experts," said Ahluwalia.
Ahluwalia also accepted that income distribution was not at the desired level and inequality has increased in both rural and urban areas.