Paddy Production in Nalanda Surpasses Chinese Record
New Delhi, Tue, 20 Mar 2012
NI Wire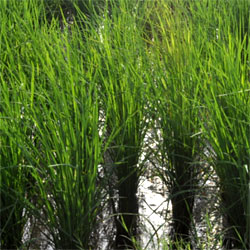 Now there is another reason for triumph in Bihar. This time Nalanda, a district of Bihar has accredited on world map by a record production of Paddy crops and surpassed Chinese records.
According to reports received from State Government the yield of wet paddy has been recorded at 22.4 tonnes/ha and that of dry paddy at 20.16 tonnes/ha in the district of Nalanda, Bihar under the demonstration on System of Rice Intensification (SRI) which was organized at farmer's field during Kharif 2011. It has surpassed the yield of 19 tonnes/ha, which was recorded earlier in China.
The Government of India has been providing financial assistance of Rs.3,000/- for organizing demonstration of 0.4 ha each on SRI under National Food Security Mission-Rice (NFSM-Rice) in identified districts of 16 States. Similarly, under the sub-scheme 'Bringing Green Revolution in Eastern India (BGREI)' of Rashtriya Krishi Vikas Yojana (RKVY), rice crop promotion programmes including SRI are being extended to the farmers in the seven States of eastern India. Besides, the farmers are being trained in the States by organizing Farmers Field School (FFS) at Panchayat level by the State Department of Agriculture of the concerned States. The Government is providing financial assistance of Rs. 17,000/- per training of 30 farmers under NFSM and other crop development programmes.
This information was given by Shri Sharad Pawar, Minister of State for Agriculture and Food Processing Industries in written reply to a question in the Lok Sabha.
(Source PIB).