Sharad Deep to lead North Zone in JK Bose Trophy
New Delhi, Tue, 20 Mar 2012
NI Wire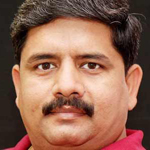 Sharad Deep will lead the ONGC North Zone team in the All India JK Bose cricket tournament for sports journalists organised by the Sports Journalists Federation of India (SJFI).
This year's JK Bose cricket tournament and AC Bali table tennis tournament will be played at Guwahati (Assam) from March 21 to 25.
The event will be attended by around 100 sports journalists from across the country. North Zone team is sponsored by Oil and Natural Gas Corporation (ONGC).
Senior journalist Sandeep Nakai will be the Chef-de-mission of the North Zone team.
North Zone team: Sharad Deep (captain), Rakesh Thapliyal, Suresh Kaushik, Vijay Kumar, Shanker Singh, Prabhjot Singh, Debjeet Kundu, Jaswinder Sidhu, Amit Choudhary, Chetan Sharma, Anant Mishra, Rajendra Katyayan, Rajeev Bajpai and Gulshan Dwivedi.