CSR joins hands with German Embassy to save daughter child
New Delhi, Tue, 20 Mar 2012
NI Wire
null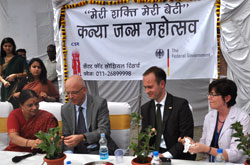 Centre for Social Research (CSR) has joined its hands with German Ambassador to aware the people for carrying sensitisation with families and engaging with other stakeholders to correct the existing sex ratio imbalance in the capital. Launched as the second phase of CSR's previous program Meri Shakti,Meri Beti (My Daughter, My Strength), it aims to address the challenge which shown major concern regarding the decreasing sex ratio. Facts shows that Delhi despite being India's capital has one of the worst sex ratios of 866 females per 1000 males according to 2011 census.
On the occasion German Ambassador to India Cord Meier Koldt said that it is nice to be a part of program, which addresses an important gender issue in India. Delhi is capital of India and anything, which is carried out here, is bound to have an impact on the entire nation. A support for this program is a small commitment from German government to forward its agenda of inclusive growth in its partner countries and we are hopeful that the program will set a roadmap for addressing the problem. A number of people especially girls and ladies were participated in the function. German Ambassador to India Cord Meier Koldt distributed gift to the girls present on the occasion.
Dr. Ranjana Kumari, Director, CSR said that despite a massive economic growth in Delhi there has been little or no change in mindset of a majority of Delhi's population. The preference for boy child will push Delhi to a brink of social and law order challenge in times to come. It is thus extremely important to address this social challenge. We are hopeful that with help from German embassy we will be able to take the program to all nooks and corners of the city and address this problem.
It is noted that Centre for Social Research (CSR) was founded in 1983. Since then it has been working to empower the women and girls of India, guarantee their fundamental rights, and increase understanding of social issues from a gender perspective. For nearly three decades, organisation has played a major role in the Indian women's movement due to its unique, tri-fold position as an experienced facilitator of grassroots programmes and trainings; an esteemed research institute; and a lobbyist, advocate and advisor to government institutions.
null