Kingfisher's licence can be cancelled: Ajit Singh
New Delhi, Tue, 20 Mar 2012
NI Wire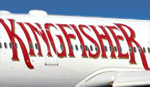 Union Civil Aviation Minister Ajit Singh Tuesday said ailing Kingfisher Airlines may lose its licence if it doesn't adhere to safety norms. The fate of Kingfisher would be decided after the meeting scheduled between airlines' Chairman Vijay Mallya and Director General of Civil Aviation (DGCA) Bharat Bhushan, said Singh, who was annoyed with airline's wrong assurance of putting clear picture about operating the flight schedules.
According to Singh, DGCA has called Mallya, the promoter and largest stake holder of Kingfisher airlines asking him to present a crystal clear picture about the flight schedule and day-to-day operation in future.
"The situation cannot continue like this, "said DGCA Bhushan to media citing that earlier Kingfisher had presented several plans to DGCA but could not followed it.
'The unannounced cut in flight operation create havoc in passengers, so why should it's licence not be cancelled?' added DGCA.
The Minister is also anguished with Kingfisher over not addressing the safety norms.
"If passenger safety is compromised we'll not let any airline fly. Safety norms also involve financial viability," Singh said.
The airlines which had come up with 28 planes in its operating schedule in February could only operate 15 planes. On March 15 Mallya said that the airline will come up with a firm operating schedule.
If this time, Mallya come up with doggy roadmap, DGCA may suspend its operating license.
Adding the problems in beleaguered airline, the State Bank of India (SBI) has denied to extend its lifeline timing.
The problem occurred in February when Income tax Department of India has seized airlines 60 bank account awarding the penalty to the airlines for paying the huge outstanding tax.
Due to cash crunch, Kingfisher has become unable to pay the salaries to its employees, dues to its clients and oil marketing companies and the debts.
Several employees to Kingfisher have threatened to leave the job in case of not paying the salaries in time, sources said.