Bihar Shatabdi Diwas: Nitish appreciates achievement of people of Bihar
New Delhi, Mon, 19 Mar 2012
NI Wire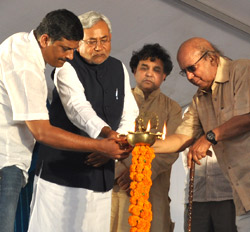 Bihar Chief Minister Shri Nitish Kumar honoured twenty people with "Visishth Bihari Samman" for making Bihar proud by their outstanding contributions in their respective fields during the celebration of Bihar Shatabdi Diwas organized at the coronation park, New Delhi on 18th March 2012.
The award was given to the famous personalities of different fields such as Medicine, television, academics, sports, law, journalism and many more. The list of awardees includes Shri Upendra Kumar Sinha (Bureaucrat), Shri Uday Shankar(Media), Shri T.N. Thakur(Technocrat), Padma Bhushan Shyam Saran (Bureaucrat), Shri Saba Karim(sports), Shri Ranjit Kumar(Law), Shri Prem Shankar Jha (journalist), Shri Manoj Kumar Tiwari (Singer), Shri Jayant Kastuar(Artist), Dr Jagdish Prasad (Medicine), Shri Harendra Singh (Sports), Dr Jagdish Prasad (Medicine), Shri Harendra Singh (sports), Dr Subodh Narayan Malakar (Academic), Professor Kameshwar Prasad(Medicine), Padma Shri Ranjeet Roy Chaudhury(Medicine), Professor D N Jha (Academic), Dr Ashok Seth (Medicine), Dr. AK Singh (Medicine), Shri Diwakar Asthana (Journalism), Smt Bharti Dayal (Artist), Shri Ajay Singh (Journalism).
"Bihar diwas was not celebrated earlier but from the last few years we have decided to celebrate this day on March 22." Said the chief minister.
"People from Bihar go to earn their livelihood at different places of the country and abroad too and accept the place as their home without forgetting the culture of Bihar." He added.
While addressing to the crowd he said " Bihar has never been known as a commercial belt but it has always been known as centre of Knowledge from the ancient times." "The students from Bihar get top ranks in education whether it be Civil Services, IIT, Railways, UPSC and Medicals, our student are the most successful in every field making Bihar proud." He added.
Talking about the problems faced by the people of Bihar in different states in the last few years he said, " India is one and Bihar and the people of Bihar are a part of this country and they have every right to live and work anywhere they want in the country." "The people of Bihar are intelligent and hard working and have establish themselves by their hard work and skills"
He motivated the people of Bihar in Delhi by his inspiring speech and promised to make Bihar the model state of the country. A huge number of supporters were present at the occasion that was followed by many cultural programmes and great performances by famous artists of Bihar such as Subhashish Pathak and Vipin Mishra, Vijaya Bharti and famous bhojpuri singer Manoj Tiwari.