Not burden, Biharis are need for Delhi: Nitish Kumar
New Delhi, Mon, 19 Mar 2012
NI Wire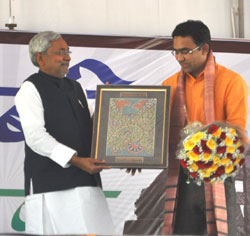 Bihar chief minister Nitish Kumar has said that now the time has come to change people mindset that Biharis are a burden for Delhi rather they are need for the capital. A laborious and meritorious Bihari can't be a burden for any city and now people should realise the fact.
During addressing Bihar shatabdi divas programme, Mr. Kumar said that entire country appreciate the merit of Biharis but it was their bad luck that they was forced to hide their identity to ignore humiliation. Government realise the fact and then we started to work for a better and strong Bihar on the internal front. People from every religion and casts came forward and then Bihar turns into a new form, which is strong and better than before.
He said that there is no need to explain the achievement of the meritorious students of Bihar. Whether it is UPSC exams or Railways or IIT or other competitive examinations, still Bihari students are on high demand. He said that in past Bihari students were targeted in Maharashtra and Assam for taking part in competitive examinations, but people should know that if there were a vacancy for a job on moon then Bihari students would not hesitate to go there.
Video Part -I
Video Part -II
Nitish Kumar praised the Biharis efforts that they have mark their reach in not only in country but even they have made home in the foreign countries. He stated that Biharis were taken to Mauritious as a labour for just assist in various work. But by their calibre and labour, today Biharis dominate in the entire country.
Chief Minister said that Biharis have a special quality that they can make their home anywhere but not on the cost of their traditions and culture. They have made their existence and identity in rest part of the country by their intelligence and labour but they never forget their language, tradition and culture, which is a significance character for the people of Bihar. It can be seen in Mauritious where still Bhojpuri is in use.