India likely to support UNHRC resolution against Sri Lanka: PM
New Delhi, Mon, 19 Mar 2012
NI Wire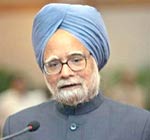 Clarifying India's stand on proposed United Nations Human Rights Council's (UNHCR) resolution for cornering Sri Lanka on the issue of war crime, began after ending the civilian war, Prime Minister Manmohan Singh Monday said in the Parliament that India is inclined to vote against Sri Lanka, if US brings it at a session of the United Nations Human Rights Council in Geneva for voting.
However, he has also added that India is still waiting the final text of resolution and will support the resolution against the Sri Lankan government for alleged war crimes and human rights violations.
"We are still waiting for the final draft of the resolution, but we intend to vote in favour of the resolution," PM said.
Prime Minister's remark over UNHCR issue have come in the backdrop of UPA's ally DMK's demand to support the resolution and if the government shows its reluctance for abstaining or supporting, DMK would scrap its support from the coalition and would support only from the outside.
There are 18 Members of Parliament of DMK and it's MPs can cause trouble for the government. However, AIDMK, the opposition party of DMK in Tamil Nadu is also in the favour of UNHCR resolution against Sri Lanka, as Tamil community in Lanka is allegedly being tortured and mentally and physically abused.
According to some media reports, as much as 40,000 Tamil Sri Lankans were allegedly brutally murdered after ending the civil war and restoring the peace in the nation.
M Karunanidhi, DMK Chief has welcomed the statement of PM and said DMK will fast on March 22 for Sri Lankan Tamils.