Poor literacy makes older people vulnerable to mortality
New Delhi, Fri, 16 Mar 2012
NI Wire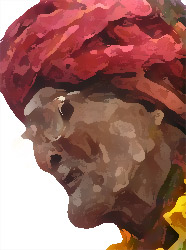 A new study has suggested that one in every third older people with difficulty in reading and understanding basic health related information suffers an increased risk of death.
Poor literacy skills have previously been linked with an array of adverse health effects.
The poor health literacy rate can also be linked with insufficient knowledge of chronic diseases, poorer mental and physical health, ignorance to preventive services, and increased rates of admissions to health centers.
Scientists at University College London began investigating the link between health literacy and mortality in older adults in England, keeping aside common risk factors like age, socio-economic position and pre-existing illness.
This study was conducted on 7,857 adults aged 52 years and above who took part in the second wave (2004-5) of the English Longitudinal Study of Ageing (ELSA). Participants were asked to fill a questionnaire about functional health literacy, which examined understanding of written instructions about how to take an aspirin tablet. Deaths were monitored until October 2009.
The researchers recorded 621 deaths during this period out of which 321 in the high-test score group, 143 in the medium group and 157 in the low group.
Every third adult was incapable to perfectly understand the medicine label instructions which pointed towards limited health literacy.
Adults who scored low on the health literacy scores were more than twice as likely to die within five years as compared to those who had scored high on that scale.
Differences in age, socio-economic position, and general health at the start of the study; these factor were limited to less than half of the vulnerability.
The researchers found that even after adjusting for measures of cognitive (mental) function, low health literacy was an important predictor of mortality.
This study suggested that a third of older adults in England have difficulties reading and understanding basic health related written information. Those with the poorest understanding are at greatest risk of mortality, the researchers said.
The study should teach all healthcare professionals to implement effective communication techniques for patients with poor health literacy, they researchers said.
At a bigger level, the design and delivery of health related services for older adults in England "should be sensitive to the limited health literacy capabilities within this population."
bmj.com has recently published this study.
--with inputs from ANI