Akhilesh takes oath; become UP's youngest CM
Lucknow, Thu, 15 Mar 2012
NI Wire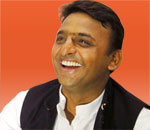 Akhilesh Yadav, son of former Chief Minister of Uttar Pradesh Mulayam Singh Yadav, on Thursday take oath as the 33rd Chief Minister of state in Lucknow amid several political, corporate and Bollywood celebrities. Akhilesh (38) has become the youngest ever chief minister of state.
In a grand ceremony at Lucknow's La Martiniere college ground, the UP Governor B L Joshi got sworn Akhilesh as 33rd Chief Minister of state. Akhilesh after taking oath as CM of state, also declared his list of cabinet in which 19 senior cabinet level ministers and 28 state level ministers have sworn in the ceremony.
Some renowned faces sworn in the ceremony includes veteran Shiv Pal Yadav, mighty Azam Khan, Raghuraj Pratap Singh alias Raja Bhaiya, Waqar Ahmed Shah, Balram Yadav, Parasnath Yadav, Brahma Shankar Tripathi, Aridaman Singh, Om Prakash Singh and Ram Gopal Chowdhury.
With the declared list of ministers, it is cleared that young Akhilesh Yadav has not hesitated to include seniors in his team. Most agreed that Akhilesh Yadav's cabinet comprised a judicious mix of leaders from all castes.
Giving a surprise to many, Akhilesh also included senior leader Ambika Chowdhury in his list despite his losing seat in Ballia district.
Twenty-eight MLAs were also sworn in as ministers of state - including the business community leader of western UP Chittranjan Swaroop, former IIM faculty member Abhishek Mishra, Shankhlal Majhi, Iqbal Masood, Arvind Singh Gope and Rajendra Singh Rana.
Some prominent personalities from politics like senior Bhartiya Janta Party leader Lal Krishna Advani, Communist Party of India (Marxists) General Secretary Prakash Karat, Chief Minister of Punjab Prakash Singh Badal, National Conference leader Farookh Abdullah, Telgu Desum Party Chief Chandra Babu Naidu, Former Chief Minister of Haryana Om Prakash Chautala, Union Minister Sharad Pawar, and Trinamool Congress leader Sultan Ahmed were present.
From Bollywood, Superstar Amitabh Bachchan, his wife Jaya Bachchan, from Corporate sectors Anil Ambani of Anil Dhirubhai Ambai Group, and Subroto Roy from Sahara Group were present.
SP gained an absolute majority in the UP legislative assembly election 2012, winning 224 seats out of the 403. The SP activists are giving this credit to Akhilesh Yadav.