Swamy now targets team Anna; compare them with Naxalists
New Delhi, Thu, 15 Mar 2012
NI Wire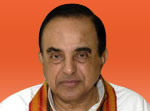 Janta Party President who has been recently in the lime light for continuously targeting Indian National Congress leaders Sonia Gandhi, Rahul Gandhi and P Chidambaram through his controversial statements since last few months, is now likely to shift his target from Congress leaders to Team Anna.
According to media reports, Swami has called Team Anna to behave like Naxalists and alleged them to be more serious in defaming the system and dragging the issue of corruption.
"Though Anna Hazare is spreading the anti-corruption movement and wants a strong Jan Lok Pal bill to tackle the menace, his team members are behaving like Naxalites," Swamy told newsmen, here today.
"Team Anna was not keen on solutions but dragging the issue and was more interested in defaming the system," he said.
Targeting to Kiran Bedi without taking her name, Swamy said, "some Magsaysay award winners... are not the only intellectuals in the country to teach the rest."
According to media reports, Swamy also informed to about his mission that may be exposing alleged irregularities and huge corruption in Air India.