Rail Budget 2012-13: Mumbai, Chennai, Kolkata to get increased connectivity
New Delhi, Wed, 14 Mar 2012
NI Wire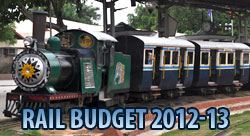 There is a good news for those who commute in local trains in Mumbai, Chennai and Kolkata, as 137 additional services in sub-urban train network has been introduced in rail budget2012-13 by Railway Minister Dinesh Trivedi.
Presenting the rail budget 2012-13 in Lok Sabha, Dinesh Trivedi said, in order to give an impetus to suburban services, additional services are being introduced in Mumbai, Chennai and Kolkata.
Out of these 137 new services Mumbai will get, Chennai 18 and Kolkata will get 44, Mr Trivedi said.
He said the new suburban services for Kolkata will enhance the accessibility. Sealdah- Ranaghat, Ranaghat-Naihati, Ranaghat-Shantipur, Ranaghat- Krishnanagar, Ranaghat-Gede, Ranaghat-Bangaon, Bangaon- Barasat, Barasat-Hasnabad, Bandel-Barddhaman, Bandel-Howrah and Mecheda-Degha are the new trains introduced in Kolkata.
He also announced introduction of new services in Kolkata Metro.
The new services introduced in Mumbai are; Churchgate-Virar, Virar-Dahanu Road, Chhatrapati Shivaji Terminus-Kalyan-Kasara and Chhatrapati Shivaji Terminus -Kalyan-Karjat sections, Harbour and Trans-Harbour line.
For Chennai area 18 additional services have been introduced that includes: Chennai Beach-Tambaram, Chennai Beach- Chengalpattu, Chennai Beach-Avadi, Chennai Beach-Tiruttani, Chennai Beach-Gummiidipundi/Sullurupetta and Chennai Beach-Velachery sections, Trivedi said.
Theses new proposals in railway budget 2012-13 are all set to enhance accessibility.