Effects of Global Warming
New Delhi, Wed, 14 Mar 2012
NI Wire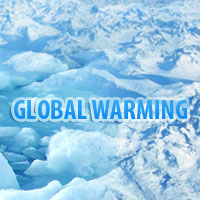 As a result of increasing temperature of earth's atmosphere due to global warming the planet is warming throughout from the North Pole to South Pole. The temperature of earth is already up by 1 degree Fahrenheit or 0.8 degree Celsius and the condition is even worse in the Polar Regions. The adverse effects of global warming now not only a matter of discussion but can be felt by us at present. Conditions like melting glaciers and sea ice, shifting precipitation patterns and setting animals on the move are some of the alarming signs of the upcoming devastation for earth due to global warming.
Some of the severe effects seen as a result of global warming across the world are:
Melting of ice in the ice dominated areas of earth such as West Antarctica and Greenland, and Arctic sea ice can be seen. These include the melting of mountain glaciers and ice sheets covering.
The number of Adélie penguins found in Antarctica, has declined from 32,000 breeding pairs to 11,000 in last 30 years.
An increase in the level of sea has been observed due to melting of sea ice over the last century.
A number of organisms such as butterflies, foxes, and alpine plants have moved farther north or to higher, cooler areas.
The average precipitation (rainfall and snowfall) has increased across the globe at a significant rate.
The number of Spruce bark beetles has increased significantly in Alaska due to continuous warm summers. These insects have destroyed up 4 million acres of spruce trees.
Some of the other effects of global warming that are expected in near future are:
Rise in Sea levels is expected to be 7 and 23 inches (18 and 59 centimeters) by the end of the century, and continued melting at the poles could add between 4 and 8 inches (10 to 20 centimeters).
Often Hurricanes and other catastrophic storms are likely to become stronger and common.
Species living in a symbiotic relationship may loose their synchronization.
Conditions of floods and droughts will become more common and often as a result of decrease in the rainfall.
Availability of fresh water is likely to decrease with time. It is predicted that if the Quelccaya ice cap of Peru continues melting at this rate, it will completely melt by 2100.
Some diseases will spread, such as malaria carried by mosquitoes.
co-systems will be affected to a greater extent leading to extinction and rise of many species