Sachin tendulkar's best inning in ODIs according to him
New Delhi, Wed, 14 Mar 2012
NI Wire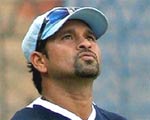 Though, when the name Sachin Tendulkar comes in our mind, it become quite confusing for us to decide about his best innings that he played in his entire career as there are too many of them. But what actually Tendulkar rates as his best knocks is the 98 runs feast in the 2003 World Cup clash between India and Pakistan.
Though Pakistan had the best bolwing attack at that time including the best bowlers of that time Wasim Akram, Waqar Younas, Shoaib Akhtarand Abdul Razzak but they looked helpless in front the legendary Sachin who showed a great example of perfect balance, economy of movement, precision in stroke-making, and excellent anticipation during his innings and made the match one of the most memorable matches ever played between the two countries.
This was the 36th match of ICC World Cup 2003 that was to be played on 1st March 2003 at SuperSport Park, Centurion and Sohaib Akthar, also called 'Rawalpindi Express' has talked much before the match to return Sachin to pavilion very early. Batting first in the match, Pakistan managed to make a handsome total of 273 runs in 50 overs with Saeed Anwar scoring a century. The score was really tough to chase against the best balling attack of world. But the first over of Sohaib Akthar ended with 18 runs on the scoreboard that included a massive six that is still one of the most memorable sixes of world cricket. Sohaib Akthar was taken out of the balling attack after the first over only.
Later, when Pakistan's Abdul Razzaq put down a catch of Sachin Tendulkar, for which Wasim Akram said, "do you know whose catch you put down." After that no bowler could stop him and this was a real feast for the spectators on the ground. Finally, he felled on a delivery of Sohaib Akthar but till than the match was in complete favour of India. India won the match by 6 wickets with 26 balls remaining in the match. Tendulkar made 98 runs in 75 balls that included 12 fours and a massive six with a strike rate of 130.66 and became the man of the match.
Later after the match, while talking about his inning he said that could not sleep for last two nights before the match, as it was much-anticipated match of the world cup. He followed the idea of showing the Pakistani bowlers all the three stumps so that he could walk across and flick them on the leg side.