Highlights of Railway Budget 2012-13
New Delhi, Wed, 14 Mar 2012
NI Wire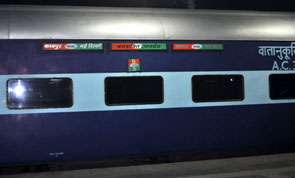 Indian Railway Minister, Dinesh Trivedi announced the Railway Budget 2012 today. The main highlights of railway budget 2012-13 were the price hike in the fares, which was seen after 10 years.
Railway minister announced 75 new express trains, 21 passenger trains, 8 MEMU and 7 DEMU for the country.
Trivedi said during his budget "My focus will be safe safety, safety, safety".
India Railways has to be benchmarked with Europe and Japan," he said.
An independent railway safety authority will be setup under the former Atomic Energy Commission chairman Anil Kakodkar that will supervise the safety of Indian railways and will recommend important measures that need to be taken.
Price hike are as follows:
| | |
| --- | --- |
| Price Hike | Classes |
| 10 paise per km | A/C chaircar |
| 10 paise per km | A/C 3- tier |
| 15 paise per km | A/C 2-tier |
| 30 paise per km | A/C First-Class |
Apart from these 5 paise per km was raised in the fare for Express train. Even the price of platform ticket was increased from Rs. 3 to Rs. 5.
He said an investment of Rs 5.60 lakh crore would be laid on Indian Railway to modernize it.
Trivedi said that Rail Khel Ratna Award will be set up in coming years and will be awarded to 10 sportsmen every year.
He announced many railway schemes for northeast India and Jammu Kashmir.
Indian Railways Stations Development Corp will be a new scheme that will develop and maintain the stations in all states of the country.
He said that this year focus is on the safety of the train and improvement in the facilities of the train. The quality of the food services given in train will be improved in the coming six months.
There is a plan to add 700 kms of new rail lines to the pre-existing one that will decrease the burden.
Railway minister said that the next five-year plan might see an investment of $ 147 billion in railway that will be a bit more than this five-year tenure.
Indian railway network is 4th longest in the world still it lacks in security and facilities. It will require a lot of improvements to meet the standard of Japan and France, which the railway minister said that India is trying to achieve.