Trivedi announces better facilities for Train passengers
New Delhi, Wed, 14 Mar 2012
NI Wire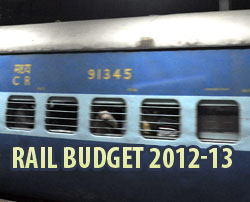 During his speech for presenting the Rail Budget he announced several facilities for the train passengers that included clean and green trains. He announced that, a total number of 25,00 new coaches will be introduced with a facility of bio toilets that will be much better and cleaner than the present one. Defence Research and Development Organistaion (DRDO) have developed the coaches.
He also announced the increase in the allocation of funds for the proposal from Rs 762 crore to Rs 1,112 crore in 2012-13.
A proposal to set up a special house keeping body has also been made to increase the level of cleanliness and hygiene in the trains as well as in stations.
The Minister also announced a new catering policy according to which Indian railway will employ reputed agencies with the help of global tender. In addition to that, a pilot project will be implemented soon in a few trains.
Coaches with special designs will be introduced for Railways would also have specially designed coaches and differently-abled passengers and one such coach will be available in each train.
Indian Railway will take the help of The National Institute of Design (NID) to enhance the design of coaches for passengers.
A plan to set up three centers for training personnel in disaster management and to introduce Railway Protection Force (RPF) was also announced by railway minister.
Moreover, the passengers could get real time update for every train in the next 18 months with the introduction of Satellite based real time information system in Indian railway.
Enhanced facilities like escalators, book a meal, AC lounge, extension of house keeping, mobile booking, alternate train accommodation system to accommodate wait-listed passengers were also proposed in the budget by the railway minister.
So, overall the Union Railway Budget 2012-13 has brought too many things for train passengers that really promises a better rail services for us.