Global Warming: A global Concern
New Delhi, Tue, 13 Mar 2012
NI Wire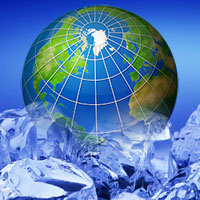 Global warming is the major concern for the people across the globe due to its alarming effects. As a result of rising temperature due to increase in the activity of green house effect, global warming has became an ongoing phenomenon that has lead to an increase of 0.8 °C (1.4 °F) in the earth's temperature since 1980s. The major reason behind global warming is the increasing concentrations of greenhouse gases in the atmosphere due to anthropogenic activities like deforestation and burning fossil fuels.
According to a data revealed in the Fourth Assessment Report (AR4) by the Intergovernmental Panel on Climate Change (IPCC) in 2007, the projected increase in the temperature can be 1.1 to 2.9 °C (2 to 5.2 °F) if the emissions will be minimum and in case of maximum emissions the temperature rise can go up to 2.4 to 6.4 °C (4.3 to 11.5 °F).
This increase in temperature can lead to several catastrophic effects such as rise in sea level, change in the amount and pattern of precipitation, increase of sub tropical deserts, melting of glaciers, permafrost and sea ice, extreme weather conditions, heat waves, droughts and heavy rainfall, species extinctions, changes in crop yields and much more.
Global warming is now a global concern and it is very essential to fight this together or this can lead to some devastating results that we never want to face. Knowingly or unknowingly we are heading towards a serious problem slowly and gradually that can even lead to our extinction on earth if not checked on time.