Railway Budget 2012: Parliamentary panel in favor of hike in fares
New Delhi, Tue, 13 Mar 2012
NI Wire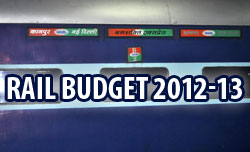 Days before the Railway Budget 2012, has to be presented in the parliament by Dinesh Trivedi a parliamentary panel on Monday advises increase in passenger fares and mobilize internal resources to improve safety and modernization of the network. Railway Minister will table the Budget on March 14.
The parliamentary consultative committee on railways has also asked the ministry to execute the reports of the Safety Review Committee headed by Anil Kakodkar and Sam Pitroda. These reports have a large number of suggestions that if put into practice can help smooth running of the railway. The parliamentary committee is of the opinion that it is right to take tough measures for the railways, as it badly needs resources to augment safety and modernization. While coming to this conclusion, the parliamentary panel took into account fuel prices, electricity, steel, cement and staff salaries that have increased many times in the recent past. The panel has also suggested fares and freight t to be increased that have not been revised in nine years.
The panel has said that the passengers are looking for improved facilities, amenities and safe travel and will not mind paying extra bucks. The panel of MP's has suggested better amenities, clean linen, clean coaches and punctuality and everything required for the trouble free travel. And a large number of these things could be implemented in rail budget 2012-13. This panel has also suggested upgrading of the catering services in terms of hygiene. In addition a large number of suggestions to improve the condition of railway have also been given.
The picture will only be clear when Railway Minister Dinesh Trivedi will present this budget.