Union Rail Budget 2012-13 to be presented on 14th March 2012
New Delhi, Tue, 13 Mar 2012
NI Wire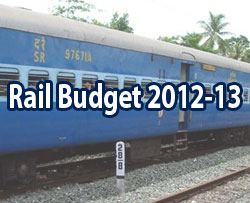 Union Rail Budget 2012-13 to be presented on 14th March 2012
Union Railway Minister Mr Dinesh Trivedi will present the much-awaited Railway Budget 2012-13 on Wednesday, 14th March 2012 in a joint sitting of Parliament. The Railway Budget will announce a planned infrastructure expenditure on the railways along with the operating revenue and expenditure to be made on Indian railway for the upcoming fiscal years. The Union Railway Minister will present the Railway Budget to the Parliament, two days before the Union Budget will be presented. There are lots of expectations from the coming rail budget from the general public as always and the major focus will be laid on introduction of high-speed trains in the country as expected.
In addition to that the railway minister may announce the proposal for starting up a set of high-speed trains with a speed of 200 km per hour, on Delhi-Mumbai route.
The major highlight of the rail budget will be the introduction of bullet trains in India on a 591-km-long Delhi-Jaipur-Ajmer-Jodhpur route, which is likely to be announced on March 14. Moreover, the Rajasthan government has already agreed to share 50% cost of the project. In addition to that, High Speed Rail Authority and a Bill are likely to be introduced in the Parliament regarding the governance of bullet trains. The Planning Commission has already approved the proposal for setting up a separate authority for executing the bullet train project.
Issues like improving passenger amenities, including catering service at stations and trains, increasing the number of trains, fares and increase in routes are likely to be featured in the budget.