Forecast of India Rail Budget 2012-13
New Delhi, Tue, 13 Mar 2012
NI Wire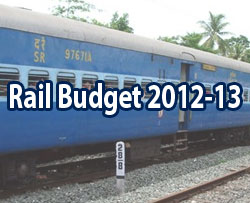 The Union Rail Budget 2012-13 is going to be announced on 14th March 2012-13 by Union Railway Minister Mr Dinesh Trivedi. The rail budget for this year has lots of expectations for common people with many key highlights of the budget.
There may be a hike in the passenger fares for the expansion of world's second largest railroad network.
The long term pending project of modernization of Indian Railways way start this year with the announcement of Railways Minister Dinesh Trivedi.
An action plan for resource generation and increase thrust on PPP projects for capacity augmentation could be laid in the Rail Budget 2012-13.
Legislation may be passed for the formation of Railway Protection Force (RPF) that will be responsible for all the issues of law and order of Indian Railway after the discussion in parliament during the presentation of rail budget. This Railway Protection Force (RPF) will not be responsible for passenger safety.
Assam Chief minister Tarun Gogoi has urged the railway minister to provide good connectivity from the state and declare the North East Frontier Railway a dedicated zone and announce the same in the rail budget.
Gujarat The MPs from Gujarat has demanded for bullet train between Ahmedabad and Mumbai. They have urged railway minister Mr. Trivedi to announce this as a special project while presenting the upcoming the Railway budget 2012-13.
The Mahratta Chamber of Commerce, Industries and Agriculture, Pune (MCCIA) has come up with many proposals and suggestions for the Railway Budget 2012-13. MCCIA has demanded to set up new terminals for long distance trains and separate terminals for trains in Pune-Lonavala trains. In addition to that, they are also demanding for new trains Kolhapur, Surat, Shirdi, Chennai, Bangalore, Amravati, Jammu and Guwahati.