Expectations from union budget 2012-13: Hard to strike a balance
New Delhi, Mon, 12 Mar 2012
NI Wire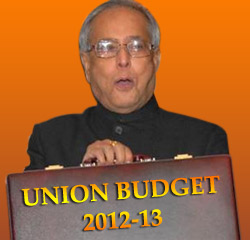 Union budget is always a subject of concern for corporate, industrial sector and even common men. And union budget 2012-13 is not going to be different. Form Dalal Street to silicon city and retail giants to salaried class they all have expectations from Union budget 2012-13. Let us examine the various sets of expectations from the budget that is all set to be tabled in parliament on March 16, 2012.
As a large part of the populations is salaried class and hence expectations and speculations are high like what will be the tax slabs. Different sectors have different expectations from the budget.
Automobile industry is eagerly waiting for budget to come as it is hit by lower growth rate, rising fuel prices, inflationary trends and swelling interest rates. So it will be worth watching the announcements made in budget for this sector. The Government could increase the 200% accelerated deduction for R&D expenses (expiring on 31 March 2012) for a longer period. The experts in the industry will also keep an eye on the excise duty and a diesel duty hike in the upcoming budget.
FMCG companies are looking for roll back of standard excise duty from 10% to 12%, as it is negative for some of the companies. The excise duty on cigarette is expected to be increased by 10-15% which is slightly negative for a few companies.
In the financial sector the government should think of re-capitalization of state-owned banks with lesser core capital. The insurance sector is expecting a hike in foreign direct investments in insurance sector from present 26% to 49%.
A different kind of approach is needed for the IT sector. The government should allocate a large amount in the budget 2012-13 for the Technology initiatives and e-Governance projects like UID and APDRP.
The finance minister has to strike a balance between different expectations and aspirations that could be a tightrope walking.