Will Sachin's fan witness the 100th ton tomorrow?
New Delhi, Mon, 12 Mar 2012
NI Wire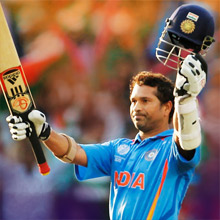 India has produced some of the greatest cricketer world has ever known, but no one even comes close to the most worshipped cricketer of the world, Sachin Ramesh Tendulkar.
Though some may propose Sunil Gavaskar, Kapil Dev, Anil Kumble, Sourav Ganguly and Rahul Dravid to be ranked equally like him but all these names lags behind in the feats Sachin has achieved in his cricket life span of 23 years.
Many came and went but one name remained stagnant and inevitable, Sachin, God of Cricket. Once a cricket fan famously said, "Cricket is my Religion and Sachin is my God". It is true, every parent in India want their son to be like Sachin Tendulkar, all the upcoming cricketers try to imitate his technique and looks up to him when it comes to batting. All these has not come with ease, he has gone through a lot of rough patches and struggles to dwell in the heart of cricket lovers.
In 1989, when he played his first one day match very few knew that this young boy of Mumbai will become a legend, a name by which a game gets recognition, very few have achieved that. Name of Sir Don Bradman, Sir Vivian Richards and Brian Lara are few such names beside Sachin that comes in the mind.
Exactly one year back, on this very date, master blaster struck 99th century and people started cheering, as he was just a century away from achieving a milestone that will immortalize his name in the game of cricket. It's not that 99 centuries are any less then an achievement but in a country obsessed with statistics, it is triple figure that matters the most.
He has been heavily criticized for the past one year, of being a burden on Indian team by not scoring runs and still finding place in the international side. Many legends of cricket have made their remarks that he should bid adieu to international cricket, but people have witnessed time and again the roaring come back of Tendulkar.
Tomorrow on March 13 2012, Indians and worldwide fans of Sachin will hope and pray that the scoreboard shows the three figures against the name of Sachin Ramesh Tendulkar.