President completes speech amidst disruptions
New Delhi, Mon, 12 Mar 2012
NI Wire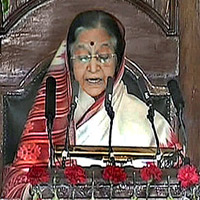 With start of the inaugural speech of the Union Budget 2012-13 by President Pratibha Patil, the opposition raised several voice during the speech regarding various issues. The major issues to oppose were sub-quota of 4.5 percent for minority communities in OBC category, Sri Lanka and its human rights record and Telangana and fertilisers.
MPs raised several slogans against the President's announcements. The members of Congress raised the slogans like "Jai Telangana" to disrupt the speech when she was talking about the issue of shortage of fertilizers in Telengana. The MPs of congress were supporting the creation of Telangana as new state by raising such slogans.
While President Patil was talking about allocations of 4.5% reservation to minority group under OBC category, there was a huge protest in the assembly. BJP member Hukmadev Narayan Yadav protested, saying the right of OBCs would be affected if something like this were done.
Members of Parliament (MPs) of DMK and AIADMK made their presence felt in the assembly even before President Patil started her address and started shouting that the government should not support Sri Lanka in the United Nations Human Rights Council (UNHRC). Again during the speech when she said "My Government also initiated steps for resettlement and rehabilitation of the internally displaced persons in Sri Lanka.". The MPs started shouting that we cannot support Sri lanka.
President Patil appealed to all the members in the assembly to work together "in a spirit of constructive cooperation" even though her speech was disrupted five times.