Kollam Port: Ship rams to boat; two dead, two injured, three missing
Kochi, Thu, 01 Mar 2012
NI Wire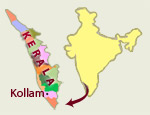 In a fresh case of tragic accident, two fishermen were killed, two injured and three reported missing on past midnight Thursday when reportedly a large ship collided with an anchored boat off Kerala coast.
According to media reports, state fisheries minister K Babu has informed to media that the accident held around 2 am on Thursday and our law enforcing agencies were trying to pinpoint the ship that hit the boat.
Two people have been rescued and were rushed to hospital, added minister. Their conditions are stable and they are out of danger, Babu added.
Media reports also added that according to one rescued fisherman 'due to having thick dark, the ship marred into anchored boat. The ship did not displayed any signal, hit the boat and escaped in the dark.'
This is the second incident of fishermen killing in Kerala coast within a fortnight. On February 15, the security guards of Italian vessel Enrica Lexie allegedly shot dead two Indian fishermen after mistaking them to be pirates.
With this incident, the diplomatic relationship between India and Italy reportedly dejected. The bilateral negotiation is still going on between the two.
Kerala chief minister Oommen Chandy has expressed his grief at the accident.