Gulbarg Case: SIT finds no evidence against Modi; Zakia fills plea against SIT
Ahmedabad, Thu, 09 Feb 2012
NI Wire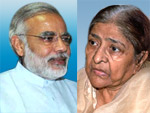 Giving a clean chit to Gujarat Chief Minister Narendra Modi, the Special Investigating Team (SIT) who was investigating the Gulbarg Society Massacre case held in 2002 during Gujrat riots in which 67 persons including Congress MP Ehsaan Jafri was killed, submitted its closure report to the trial court on Wednesday.
The SIT team led by former CBI chief R K Raghavan, which was organised after the direction of Supreme Court for probing the prosecutable role of Narendra Modi and 57 others in Gulbarg Society murder, has concluded stating that it could not find any 'prosecutable evidence' against Gujarat CM.
SIT report has also denied Zakia Jafri's (wife of slain MP Ehsaan Jafri) allegation that Gulbarg Society massacre was the result of a larger conspiracy.
Zakia Jafri, who is shocked from the SIT report, has alleged SIT team to not submit all the documents before the court that could prove enough to prosecute Narendra Modi and others. She has reportedly decided to seek the copy of SIT closure report, so that she can take further steps.
Meanwhile the media reports say that social activists Teesta Setalvad and Mukul Sinha have moved to the trial court to seek the copies of SIT closure report Thursday.
As it is known that Zakia Jafri had lodged an FIR against 63 people (now two have died and case against two persons have been withdrawn later) to the Director General of Police, but since it was not accepted, she moved first to the high court and later to the Supreme Court.
Hearing the plea, the court denied to take any action on the basis of her allegation and forwarded back the case to trial court once again and directed that a SIT team should have organized that would probe the prosecution against Modi and other 57 persons and submit its report to the trial court. The Trial Court then would give the judgement on the basis of SIT report.
But, now Zakia and Teesta have not satisfied with the SIT's report and moved to the district court for seeking the copies of sealed closure report.
Expressing her disappointment Zakia said, "We feel the entire report has not be submitted. We requested the court to open the sealed report. We have asked the court to see if the entire report has been submitted as directed by the Supreme Court."
The District court Judge MS Bhat said that he would study the report and then pass appropriate order in the case.
The next day of hearing is February 13, informed SM Vora, the lawyer of Teesta Setalvad led NGO 'Citizen for Justice and Peace's lawyer'.