Sino-India border dispute solution needs patience, perseverance: S M Krishna
New Delhi, Thu, 09 Feb 2012
NI Wire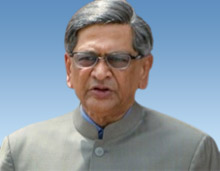 New Delhi, Feb 8: The Sino-India border issue is complex one and needs perseverance for a solution mutually acceptable to both the sides, said Indian External Minister S M Krishna in Beijing to the media who is at present on a three-day official visit to China.
Talking to media over the current disputed over Indo-China border and Arunachal issue, the minister said, "Well, you know the mechanism has been put in place with the best of intentions and the whole idea, the whole purpose is to come to some amicable agreement on the border issue."
Referring to special representatives of both side who is currently making dialogue over the issue, Krishna said, "When we have entrusted the work to the two Special Representatives, I think we should depend upon their wisdom to pursue this. They are efficient enough to deal efficiently this complicated boundary issue."
Krishna was referring to Shiv Shankar Menon, the National Security Advisor to the Prime Minister of India and his counterpart Dai Bingguo from china over this issue.
Leaving this matter to the delegates who is currently making dialogues, Indian Foreign Minister said, " I think we better leave it to those, who are mandated to come to some agreement on the border issue."
--With inputs from ANI