Relapse to smoking: Low dopamine is the culprit
New Delhi, , Thu, 09 Feb 2012
NI Wire
null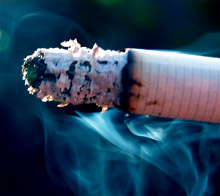 New Delhi, Feb 9: Low dopamine that is caused due to withdrawal from smoking could be the reason for relapse to smoking.
Dopamine a chemical messenger in the brain is crucially important in reward and motivation. As per research findings, this chemical plays central role in sending a signal to the brain to look for something pleasurable.
In fact, dopamine is released while indulging in enjoying activities like taking drugs, smoking, having sex, and gorging on delicious food.
This signal appears to be depended on the dopamine, which releases in response to environmental factors, is named phasic release. It is contrary to the tonic seepage of small amounts of dopamine released from nerve cells.
The tonic releases from dopamine supposedly help dopamine system setting the level of its reactivity to inputs.
As dopamine is released with smoking, it is worth understanding that dopamine levels get disturbed when a smoker quits smoking. These changes were characterized on the basis of a study conducted by researchers from Baylor College of Medicine in Texas.
For this study they administered mice with nicotine, the active constituent of cigarettes, for a number of weeks in a row. After that they withheld the nicotine and measured the consequent alterations in dopamine signaling in this period.
They observed that withdrawal from nicotine caused a deficit in dopamine in which the basal dopamine concentration and tonic dopamine signals were disproportionately lower than the phasic dopamine signals. When it was further administered with nicotine, it reversed the hypodopaminergic state.
The authors opine, these findings suggest that medications able to elevate tonic dopamine levels during withdrawal could be helpful for those want to kick the butt.
In theory, this kind of treatment could help stabiles any fluctuating dopamine level that results from the sudden withdrawal of nicotine. It can also suppress the dopamine-influenced urges to get nicotine that is reason to relapse.
The study has been published in this month in Biological Psychiatry.
--With inputs from ANI
null