India expects to reach 100 billion dollar trade with China by 2015, says Krishna
Beijing, Thu, 09 Feb 2012
NI Wire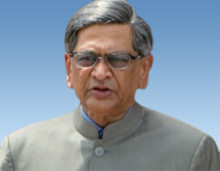 Beijing, Feb 8: Indian External Affairs Minister, S.M. Krishna, who is on visit to china, said on Wednesday that India hopes to reach the 100 billion dollar trade with China by 2015.
"At the bilateral front, we have discussed our growing trade relationship. We are confident that we would be aiming and we should be able to reach the 100 billion dollar trade between the two countries by 2015. As it is, we have crossed 74 billion dollars. So, I do not think that we have set a target, which we will not be able to achieve," Krishna said.
He also requested Chinese authorities to allow Indian IT and pharmaceutical companies; Krishna said that India welcomes Chinese infrastructure companies.
"And I did bring up the subject of balancing these trade relations between our two countries and the progress of Indian companies in software technologies and pharmaceuticals is well known," Krishna added.
"And I express the hope that market access will be provided for them so that these industries could come into China. Similarly, investment from China in the infrastructure in India would be very welcome," he was quoted as saying.
--With inputs from ANI