Surajkund Craft Mela: A place where many a tradition meet
Faridabad/New Delhi, Wed, 08 Feb 2012
NI Wire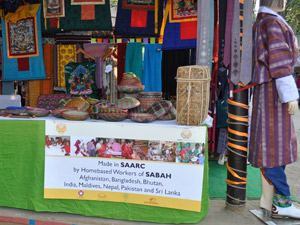 Internationally acclaimed Suraj Kund Crafts Mela saw the dawn on February 1, 2012, and is on its extreme height now. This is the 26th time Haryana tourism is proudly hosting this mela. But this year it's grand. Besides, many SAARC countries, Middle East countries like Uzbekistan, Kyrgystan and Kazakhstan have also sent their participants to exhibit their culture and tradition using this platform. This year an African country Congo has initiated the trend to enter in Indian broad market through Surajkund Mela.
Thailand is an exclusive partner of this year's Mela.
All the participants are sprinkling the flavors of their country to the incoming crowd. Congo, the sole representator of African continent is getting an unmatched attention in this mela. They are spreading African colors and unseen culture in the Surajkund Crafts Mela. Their stall has a statue placed in front that highly idolizes and symbolizes the 'Kiwa' culture of their country. Known as 'Jitinga', it is the harbinger of peace, strength, hospitality and cultural heritage. It is also helpful in fending off troubles. These culture and traditions are very much alive in their country and are a part of their day-to-day life.
More than 400 craftsmen from every corner of the country have placed their stall in the Surajkund Mela. Be it the stall of Leather Puppet, Wood Carving, Cheriyal Paintings, Pearl & Jewellery, Kalamkari Hand Painting, Cotton Sari or the stall of Zari Textile, Bamboo Craft, Madhubani Painting, Dhokra, Kalamkari, Patola Saree, every stall has its own crowd and they are delighting them with their best work.
Every country and state has brought with them their unique taste and cuisine, which people can savor at the Food Court.
Folk dances are presented every day by different schools and colleges at Chaupal from 11 am in the morning. Satriya Nritya one of the classical dance forms of the state, which represents the Satriya culture of Assam, was presented here at an open theatre named Natyashala every day. Besides, dances like Bhagoria, Been, Bhangra, Bihu, Charekula-Holi, Gudumba, Kachhi ghori, Kalbelia, Kathutli, Mehar Band, Nagada Dhol, Nauraata/Baddi Group, Panthi Dance, Sambalpuri Dance, Siddhi Goma Dance are also scheduled to be performed in the cultural nights from 6 pm in the evening.
Kids can be seen insisting their parents to take them to the toy stall or the Amusement Zone that is specially prepared for them. It has many playful rides and swings to please the small hearts of these children.
Like every year this year's mela is also based on a theme, and Assam is the state to hold the pride. It will get the chance to showcase the terracotta art, it's unique cuisine and craft work made of Bell metal and Kuhilla.
The fair entry is from 9.30 am in the morning till 5.30 pm in the evening. People can reach there by boarding special arrangement by Surajkund Crafts Mela Association from New Delhi. Surajkund Crafts mela will end on February 15, 2012.