India expects peaceful solution of Maldives crisis: Krishna
New Delhi , Wed, 08 Feb 2012
NI Wire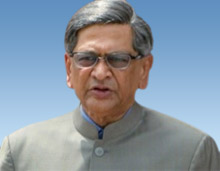 New Delhi Feb 7: Emphasizing amicable relations with The Maldives, Indian external affairs minister S M Krishna on Tuesday said that he hopes all issues surrounding the resignation of Mohamed Nasheed President of the Maldives will be resolved in a peaceful way.
"Well, we just have been getting information in bits and the latest that I hear is that there has been an announcement that the President has stepped down and the Vice President has taken over. Well, you know we have very friendly relations with Maldives and we also know that there have been some problems between the opposition and the President and it's our desire and it's our wish that there is a peaceful resolution of all these differences," Krishna said it to media who is at present on his official visit to China.
"And any help that we can render in terms of development of Maldives. When Prime Minister was there, he has assured the nation that India is always there to help in the developmental process and agenda. We hope that they will be resolved peacefully," he said.
Krishna also added that the Indian representatives in Maldives are keeping a vigil on the situation closely and have the opinion that Indian expatriate community in the country is safe.
"I think our representative has been in touch with all the Indian nationals and I am given to understand that all of them are safe and then we will continue to monitor the safety of every Indian, who is in Maldives," he said while answering a question about Indians' safety into Maldives.
In an earlier development, Mohamed Nasheed the President of The Maldives, resigned Tuesday in favor of a national unity government led by Vice President Dr. Mohamed Waheed Hassan until next year's presidential election.
His resignation came after weeks of public protests over his controversial order to arrest a senior judge.
--With inputs from ANI