Ek Main Aur Ekk Tu (2012) Movie Review
New Delhi, Wed, 08 Feb 2012
NI Wire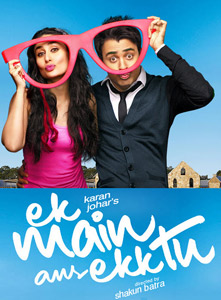 Ek Main Aur Ekk Tu (2012) Movie Review
Movie Title: Ek Main Aur Ekk Tu
Star Cast: Kareena Kapoor, Imran Khan, Boman Irani, Randhir Kapoor, Ram Kapoor, Ratna Pathak Shah
Language: Hindi
Release Date: February 10, 2012
Director: Shakun Batra
Producer: Karan Johar, Ronnie Screwwala
Music Director: Amit Trivedi
Lyrics: Amitabh Bhattacharya
Genre: Romantic Comedy
Ek Main Aur Ekk Tu is a romantic comedy written and directed by debutant Shakun Batra. Produced by Karan Johar under his banner Dharma Productions, the leading starcast includes Imran Khan and Kareena Kapoor, Ram Kapoor, Boman Irani and Ratna Pathak Shah.
Unlike the traditional bollywood love stories director Shakun Batra has tried to make a love story with a different treatment this time. Generally, a typical bollywood love story follows fixed sequence of meeting of boy and girl, becoming friends, falling in love and then getting married beating all odds with a happy ending. But this time Ek Main Aur Ekk Tu has come up with a difference sequence where the boy and girl meet, marry and then become friends. So, what happens after that? Do they fall in love to live a happy life? So, wait for the release of the movie on February 10, 2012 to end your curiosity.
The film was earlier named as; 'Short term Shaadi' has already generated much curiosity among the audience before its release. The movie revolves around Rahul Kapoor (Imran Khan), 26, an architect by profession in Vegas. He loses his job due to some reason and is afraid to tell it to his parents and decides to remain silent on this topic until he finds another job. But instead of a job, he meets a fearless and quick-witted hairstylist Riana Braganza (Kareena Kapoor) and on Christmas Eve. The twist in the movie begins from there. Both of them becomes binge in the party and when they wake up next morning, they find that they are married to each other.
After that they decide to appeal in court for annulment of marriage. Now it takes another 10 days for the next appointment of annulment and in those 10 days a kind of friendship is developed between them with lots of laughing together, arguing and fighting. But it is still in ambiguity that whether the friendship turns into love or not.
The film justifies the popular saying: 'What happens in Vegas stays in Vegas'. Kareena Kapoor has claimed her role to be the best till date. With Amitabh Bhattacharya's lyrics and the music of national award winner Amit Trivedi, the music of the film is already popular these days. Likely to be a great entertainment from dharma productions, the movies is the much awaited release of 2011 and is expected to make the best of the Valentine's Day fever.