Protest against nuke power plant in Haryana: Firm's officials taken hostage
Fatehabad (Haryana), Tue, 07 Feb 2012
NI Wire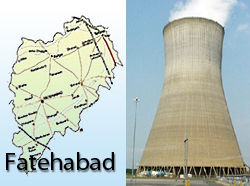 The government's plans to build a nuclear power plant in Haryana got a jolt on Tuesday when farmers protesting against the construction held company officials.
The incident took place in Fatehabad District when three engineers of a private company carryings out a survey.
Villagers are against the construction of the nuclear plant, fearing a possible recurrence of the recent disaster occurred in the Fukushima plant in Japan.
"We will not allow them to set a nuclear reactor in our village on any grounds. We have held three officials as hostages for five hours," Hans Raj a villager informed to media.
The villagers also said that they would not release the hostages until the company revokes its plans to set up a plant.
"We will not leave them unless and until we receive any answer from the higher authorities in Mumbai. Our village head has called them and when they will come, we will leave these people. We will not give our land at any cost," Maya Devi from the village said.
After the Fukushima incident, several nuclear projects across India, including the Jaitapur plant in Maharashtra, have faced protest from residents on the pretext of adverse effects on the environment.
The country has a total installed power generation capacity of 164 gigawatts (GW) and aims to increase it to 187 GW by the end of March 2012. Twenty operational reactors in six power plants, generate over 4,000 megawatts of electricity while work on building five other plants is still in progress.
--With inputs from ANI