Govt proposes to help Yuvraj Singh: Maken
New Delhi, Mon, 06 Feb 2012
NI Wire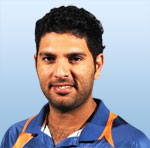 Wishing a speedy recovery from first stage cancer that was earlier reported as non-malignant tumour in the lungs of Indian Cricket Star and World Cup 2011's 'Player of the Tournament' Yuvraj Singh, Ajay Maken, the Union Sports Minister has said that government is ready to help Yuvraj through all possible means.
"Wish Yuvraj a speedy recovery! Asking officials to find the quantum and nature of help required. Government should & will help him," Maken tweeted.
Yuvraj (30), the left handed middle order batsman and left arm spinner, is currently in US for undergoing chemotherapy for recently diagnosed malignant tumour that was earlier said to be non-malignant tumour last year by his family members. He was the star performer in last One Day International (ODI) World Cup 2011 in which he made 362 runs and took 15 wickets. He was selected 'Man of the Match' four times and became the best player of the tournament.
Informing about Yuvraj's disease his physiotherapist Dr Jatin Chaudhary has stated that Yuvraj's cancer is at first stage and absolute curable. He would be fit to resume cricket in May.
"It is a rare tumour and is cancerous but it has been detected in stage one itself........ Since parts of the tumour are just above the artery of his heart, there was a danger that while running it could burst. But it is 100 per cent curable," Dr Chaudhary said.
"The doctors decided that he would have to undergo chemotherapy and he travelled to the US on January 26. End of March, he would undergo a CT scan and should recover by then. After that it is just some rehabilitation in April before he is fit to be back on the field in May," Chaudhary added.
Yuvraj's fans, friends, team mates and other players who have overcome from this fatal disease are also supporting to him and wishing that they can soon see this splendid player on the ground and hitting long sixes.
Former South Africa all-rounder Dave Callaghan, who overcame testicular cancer to play international cricket in the 1990s and early 2000, has advised Yuvraj to set a time frame for returning on the field.
"Yuvraj will do well to tell himself, 'by the end of my treatment, I would like to play... for example... next year's IPL (Indian Premier League).' A target to work towards is important," Callaghan said.
Yuvraj has played 37 Tests, scoring 1775 runs at an average of 34.80.
He has 8051 runs at an average of 37.62 from his 274-match ODI career. In 23 Twenty20s, Yuvraj has scored 567 runs at 31.50.