Cann't afford War over Kashmir Issue: Gilani
Islamabad , Mon, 06 Feb 2012
NI Wire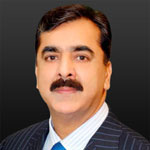 Pakistan wants to resolve Kashmir issues through dialogue, diplomacy, prudent policy and national consensus not from war, said Pakistani Prime Minister Yousuf Raza Gilani on Sunday while addressing a convention at the Prime Minister's Secretariat to mark 'Kashmir Solidarity Day'.
'Pakistan and India have fought four wars on the Kashmir issue but in this 21st century, we cannot afford wars,' said Gilani.
Pakistan and India have had armed conflicts in 1947-48, 1965, 1971 and 1999.
"We want to resolve the issues through dialogue, diplomacy, prudent policy and national consensus," he added by stressing on that Kashmir issue remained the cornerstone of Pakistan's foreign policy.
"We are committed to continue with the moral, political and diplomatic support to Kashmiris. The whole nation including all the political parties are united on the cause of Kashmir."
Speaking on the Pakistan's national policy, Pak PM said, "Pakistan is a responsible country as well as a responsible nuclear power, it has to make responsible policies."
He also added that now Pakistan's foreign policy is made through collective consensus not by individuals.
"Gone are the days, when the foreign policy was made by individuals. Now, the policies would be made by the chosen representatives and through the parliament," he said.
He cited the example of Pakistan-China friendship and said the whole nation was united on it and wanted to take this friendship forward.
Speaking upon Most Favourite Nations (MFN) status to India, Gilani clarified that it was approved by the cabinet with a consensus decision. But it doesn't mean that India has a special status. It was a trade nexus only and since 2008 LoC (Line of Control) trade had reached around Rs.15 billion. He however stressed on that Pakistan would never compromise on national interests.
Pakistan celebrates Kashmir Solidarity Day as a public holiday and rallies, special payers, namaz held across the country. This day has been observed by Pakistan since 1990 to highlight the Kashmir issue.
Hundreds of people formed a human chain in Pakistan-occupied Kashmir (PoK) and Pakistan repeats its assurance to continue support to the Kashmiris.